I named this site "Ozarks Voyage" .............
because I plan to have something of everything.
I plan to have items for sale, or for things I
am looking for, etc. I'm also going to use this
web site to express myself. I'll have a page
with my opinions or current events, You'll also
find a great reference page with click on links.
Many of the photos, also can be clicked on and
it will take you to another site. This site is
variety and oddity. I'm an honest, country man
who likes the simple things in life. I have
high standards and expectations and I am proud
to tell the world - GOD IS FIRST IN MY LIFE!"
You'll meet my family too, and when I learn to
use this new scanner - I'll put family photo's
here too. It is No Secret What God Can Do!
What He's Done For Others...He'll Do For You!


***Check Back often. I will be updating and
adding to this site.
This may load slowly...so I hope you
please be Patient!
Click on The Logo Below to "lasso"
Great Rodeo/Cowboy/and Western Site!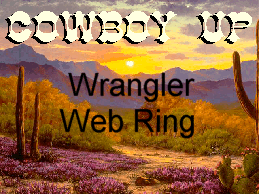 I am a member of the Cowboyup Wrangler Webring.
My youngest son Anthony belongs to the Missouri
Junior Rodeo Association, and has been doing
Rodeo's since he was 14. He is a freshman in
College now in Oklahoma, and is studying Rodeo
there. He worked at Sanders Ranch for almost
4 years before he started college. He has not
decided on a major yet, but is taking mostly
Agriculture and Business Classes. I've never
seen a kid so full of bumps and bruises, that
sports them like a trophey - The Rodeo scene
is his thing! Most of his buddies do the same
thing - and the broken bones and bruises come
with the thrill. Royalty Arena as well as the
Civil War Arena are close to where we live.